Skip Navigation
Website Accessibility
Class Information
We use a wide screen TV so that everyone can see in class.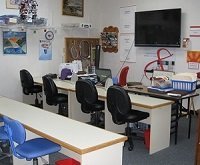 General Information about our confidence building Classes
All of our sew-in classes are hands-on.

When you bring a machine to class, please make sure that your machine is in good working order, OR you may borrow a machine from us. Please let us know in advance.

If you do not see a class or topics you would like us to offer, please contact us at 503-393-0132 and we will try to design a class for you.

All classes are held for two hours unless otherwise specified.
Our Friendly Class Policies
If you must cancel class, allow at least two weeks notice for full in store credit.

Arrive on time and be ready to learn with materials & supplies prepared for class.

Leave your area clean for the next class.

Please make sure cell phones are off & put away, as they are a distraction.

No children, please.

Please keep extra talking to a minimum while the teacher is talking.

Many people are allergic to fragrance- please act accordingly.

Thank you for your consideration for others.
BASIC SEWING KIT
All of the hands-on sewing classes will need a basic set of supplies that you like to use when sewing. In addition to the materials listed with each class, please bring the following items to
each
class:
1. Your sewing machine in good repair, cleaned and oiled with the foot control and cord. If you need to borrow one of ours, please let us know at least 48 hours in advance.
2. Good scissors--1 pair for cutting fabric and 1 pair for snipping threads. You may also want to bring a pair for paper if it is a pattern class.
3. Good rotary cutter and a small mat
4. Easy to read ruler
5. Extra machine needles, cutter blades, bobbins
6. Seam Ripper
7. Marking pencils of your choice
8. Small iron & ironing pad (Optional--we have 2 ironing stations)
9. "Best Press" or spray starch
10. 505 Temporary Spray Adhesive
11. Additional items that you like to have handy when you sew. Please share your ideas. We're always looking for new tips!

Not every class will require all of these items, but if you have your kit assembled, you will have everything you need for class.
Please be sure to check the website for instructions on what to do to prepare for your class. Most classes will need you to have your pattern and precut your fabric before your first class.